Define Problem
Tiny Tales is a new startup that wants to help parents find great books to read to their young children in the iPad app. They have huge library of books and because of that parents have expressed that it's been difficult and time consuming to find the right stories to read to their children.
Goal
An iPad app that helps parents to find the books based on their or kids' interests without wasting time, also a place where all can share their favorites books
My Role
This Google design sprint was created based on a mentor & tutor guided UX/UI Design course, where I was responsible for the whole process
Day 1 - Map
User Interviews
"I read the first few pages to make sure  the right age level…if it is too childish or too hard to comprehend…they lose the interest"

- Maria, Mother of Jack (7 years old)
"Sometimes we just want a quick book to read before bed"

- Dan, Father of Dylan (6 years old)
"I can tell when my girls get bored with 
the same stories over and over again - but it takes so long to find a new one that they will enjoy"

- Anna, Mother of Olivia (5 years old)
"We usually trade recommendations when i talk to my friends who have children that are same age as my sons and it works out great"

- Anthony, Father of David (7 years old)
HMW Questions
• How might we make easier for parents to find certain books in short time?
• How might we connect users with others and help them share their favourites?
• How might we help them in finding short books that can be read in less amount of time?
• How might we represent more options  (themes, new ones, keywords and so on) to users to choose?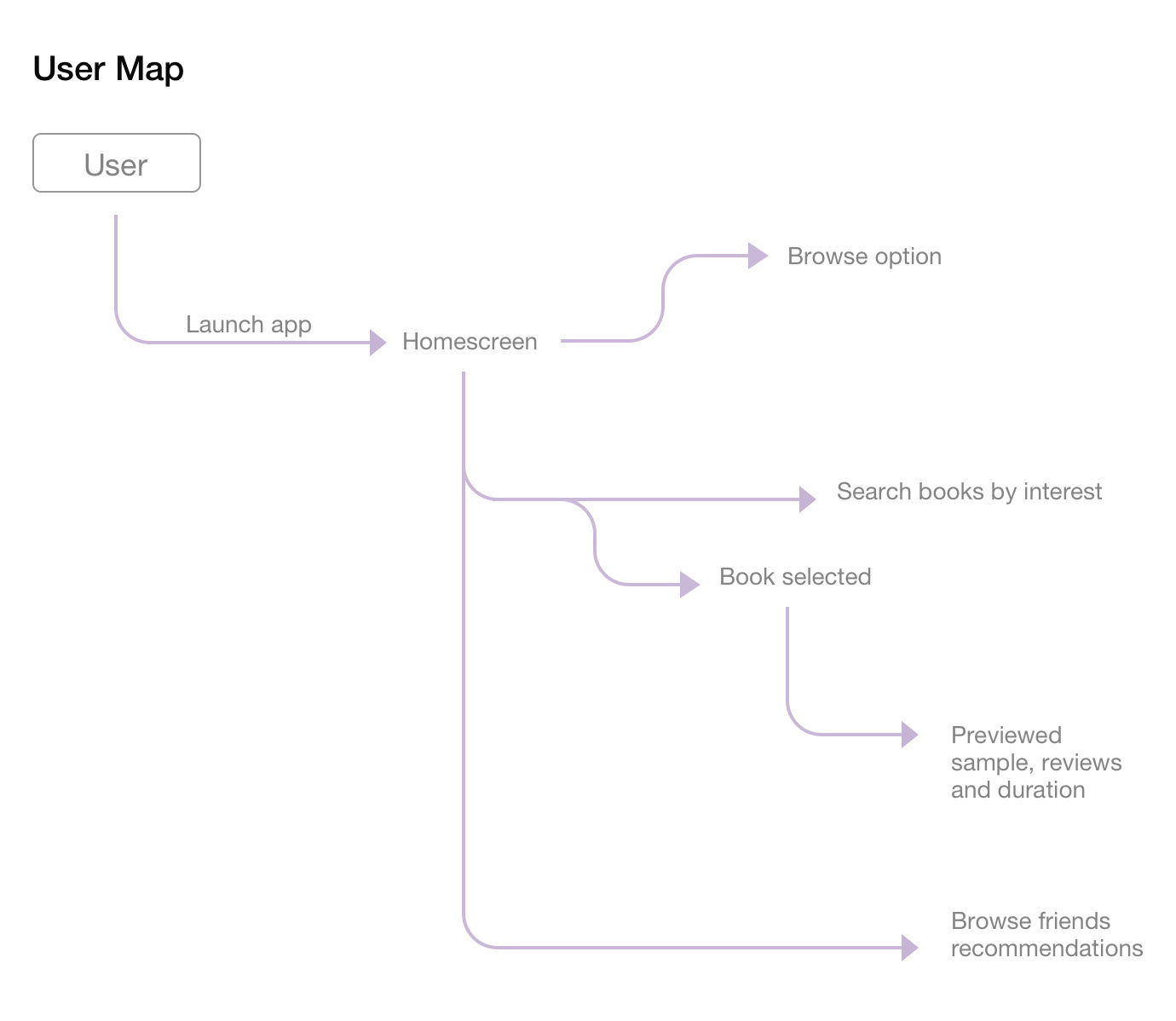 Day 2 - Sketch
Lightening Demos
I started to check out other apps and services like Goodreads, Epic, Apple books, Libby and so on to see how they are solving the solutions. I also researched some social apps to observe their user experience when maintaining connections among users.
Goodreads has great interface and with feature like "collection", the app helps sharing with one another
Epic app represents all interests and themes in a good way, i like how they even give importance to single character.
Scribd has great subscription service, The way they describe summary of book is well- thought.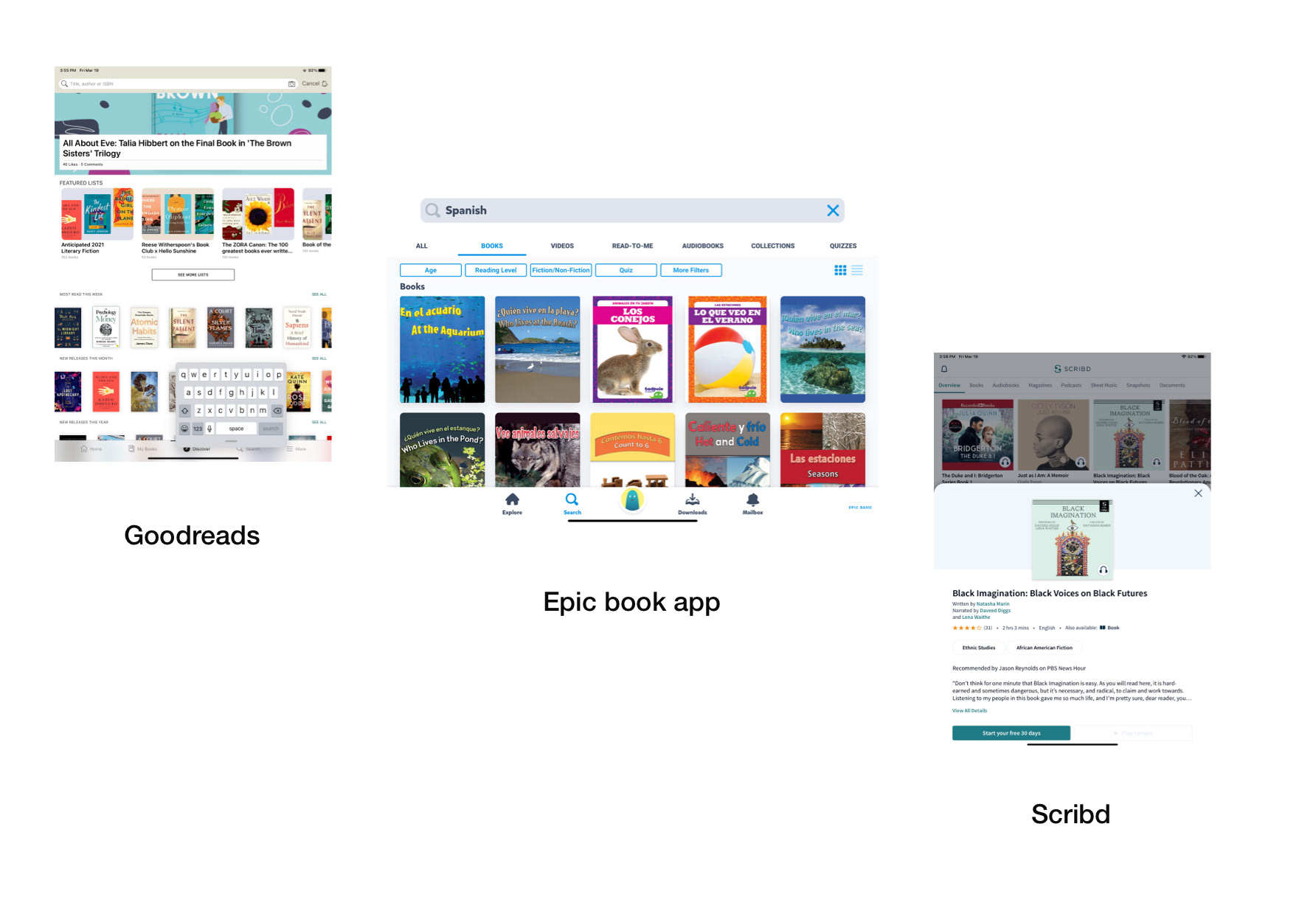 Crazy 8s Screen Sketches
After going through all the inspirations, I spent 8 minutes hashing out 8 different ideas for Tiny Tales, after which I was able to decide which one stuck out the most.
Based on the Crazy 8s, i have decided to go with first screen, as it clarifies the information in a smipler way while mainatin lists and genres in structured way.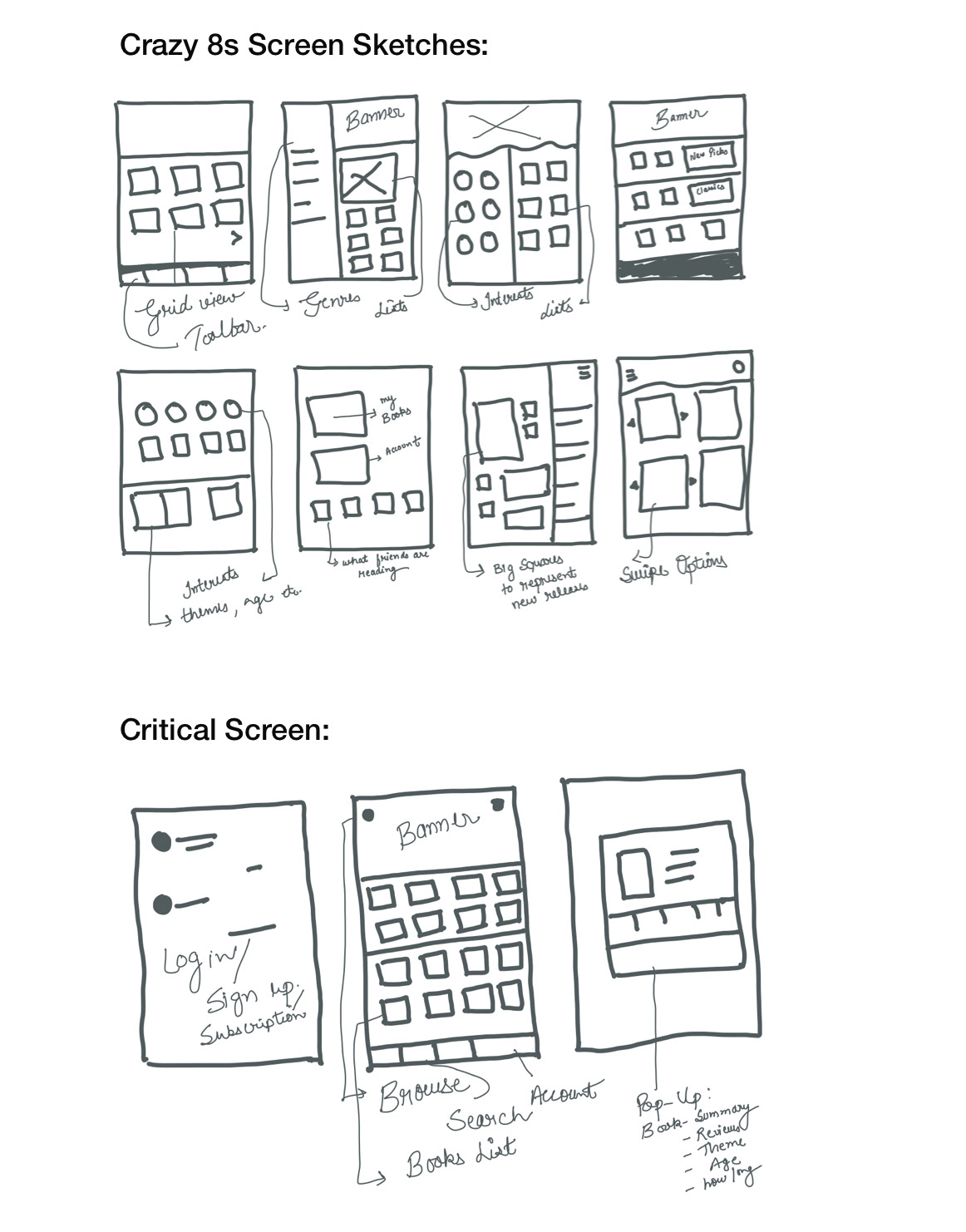 Day 3 - Decide
Storyboard
In order to get full frames, i have created this storyboard to get the full image of user's journey. I am sketching and filling most the blanks based on the selected screen yesterday.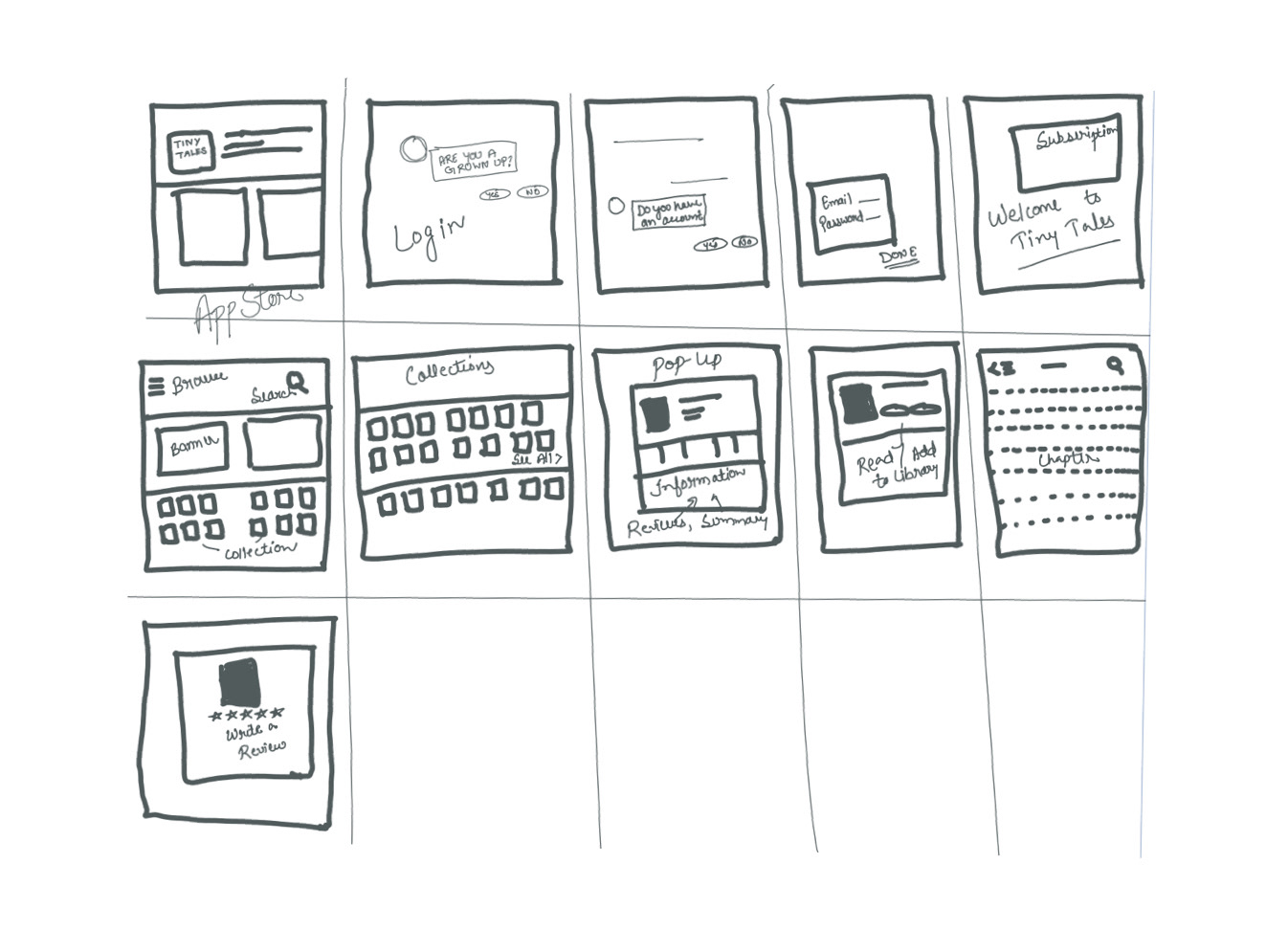 Day 4 - Prototype
Solution
I made all the rudimental screens and the goal is to learn how users react, understand and act. Are they still facing problems that they were describing in the user interviews?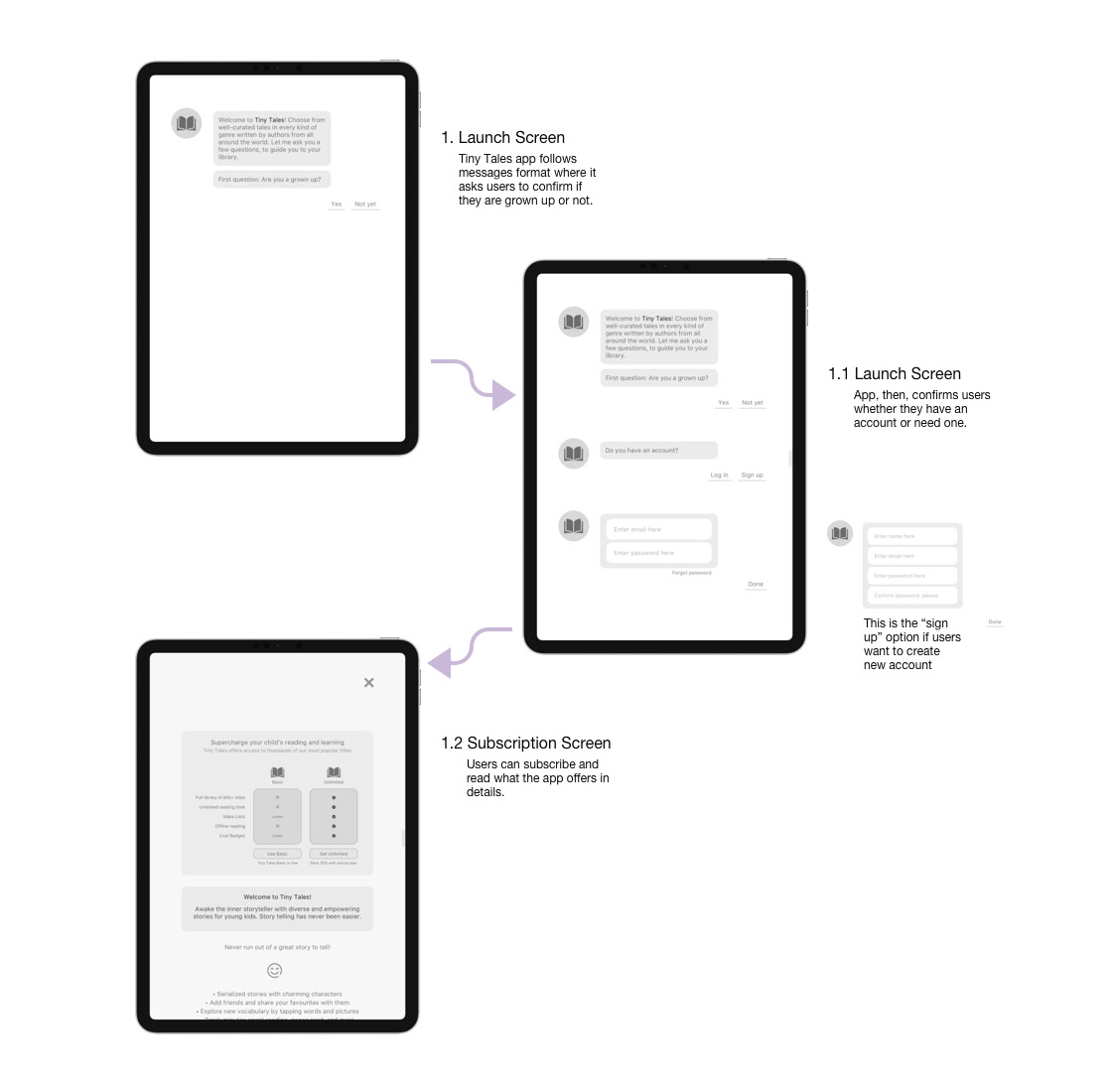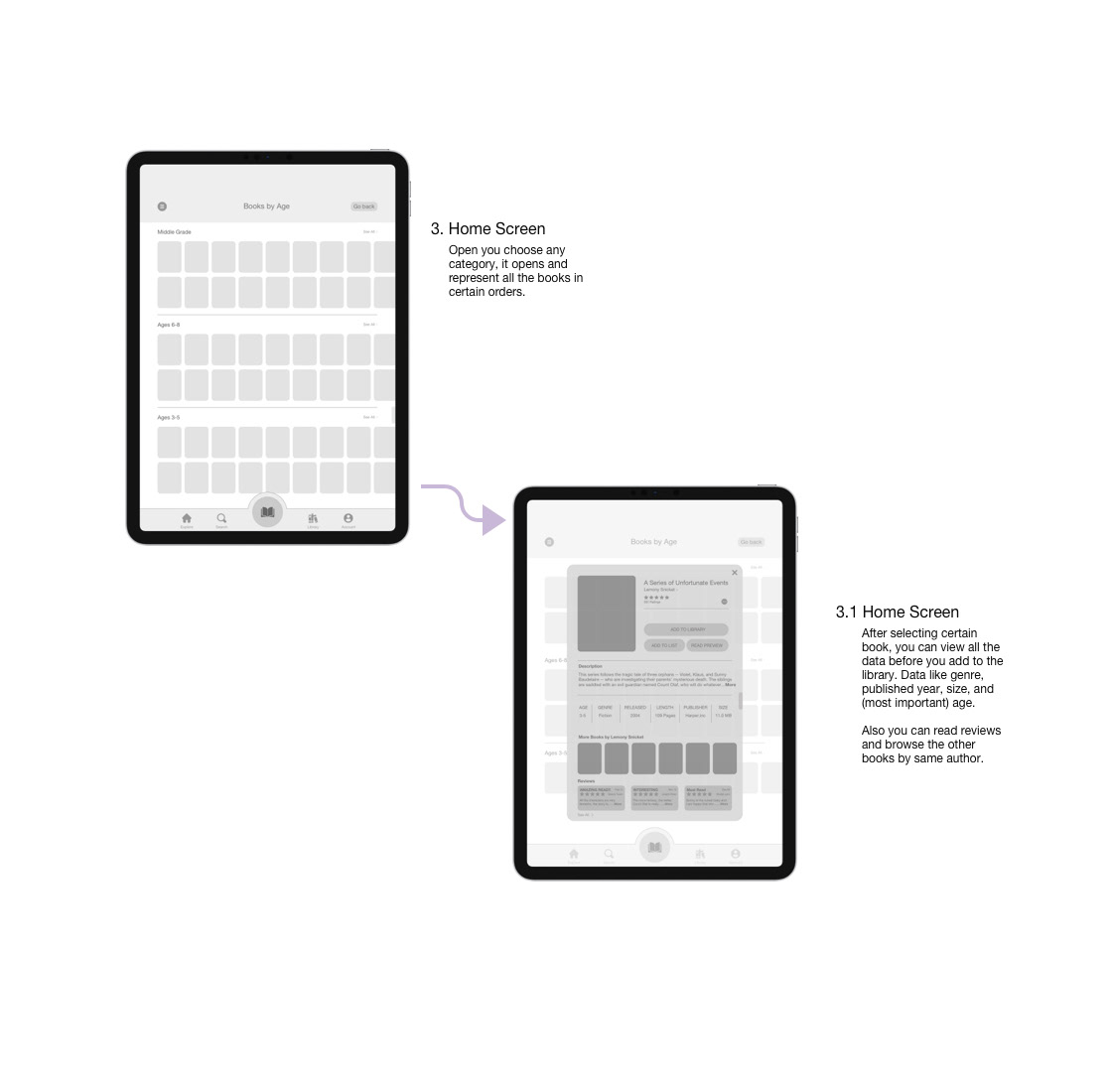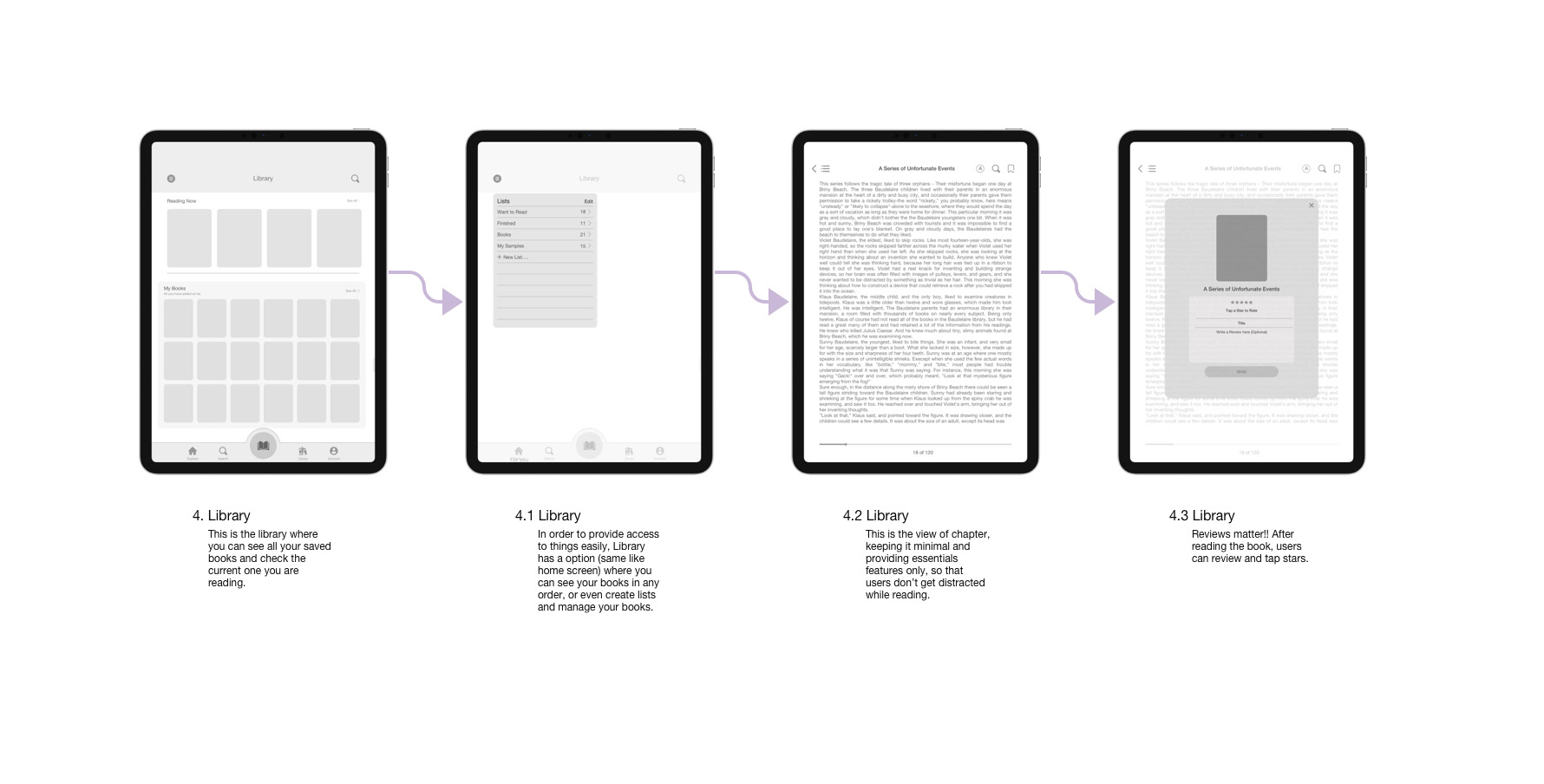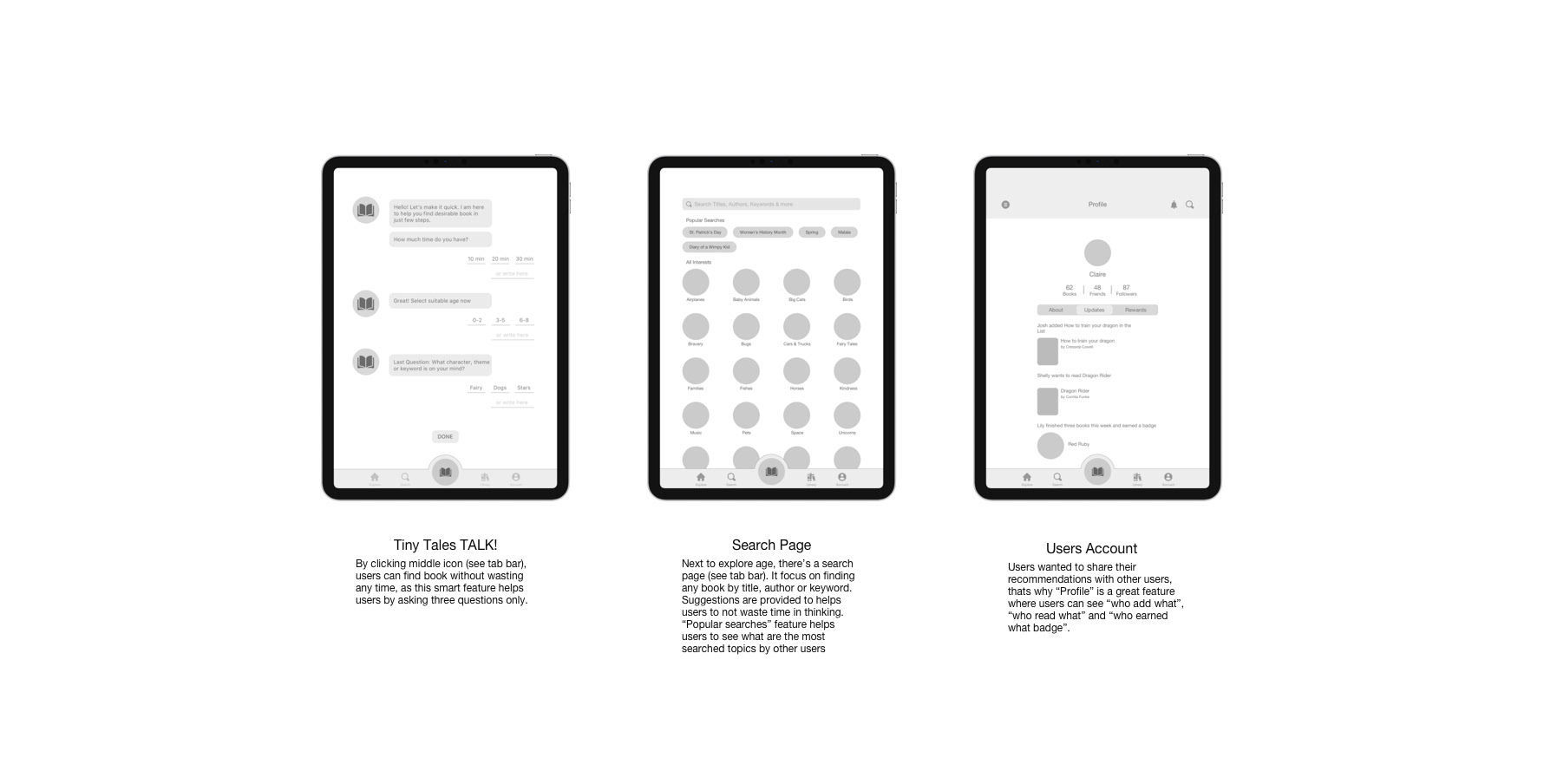 Day 5 - Test
For a user test, I contacted 5 parents and asked them for 20-25 minutes interview. Those parents have either one or two children. They often read to them and always look for right selections.  I was testing:
• Do they capable to find certain books easily and in short time
• Do they find easier to go through information and collect data (genre, length, age etc.)
• Do they find features useful (Talk!, search page etc.)
Findings 
• All participants could easily notice the categories and choose their books.
• Participants scrolled less to search for certain books and highly depended upon search features.
• Some participants were looking for options to send message to their friends (which is not available now but can be added in the future)
• Participants appreciated the "Talk!" feature, as they referred to it as "Find my book".
• Most participants explicitly stated their liking for the suggestions provided on the search page.